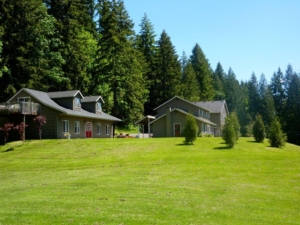 Camp Cedar Ridge is wonderful place to host a workshop, retreat, team-building event, or other gathering. The house and lodge provide a welcoming environment only a few steps from the conference meeting room with approximately 1200 square feet, a projector screen and wireless internet.
The cozy house and adjoining lodge together sleep up to 53 guests with single beds and double solid wood bunk beds complete with linens, comforters and pillows, 7 full bathrooms, a full kitchen and great room. In addition, if your retreat is of a larger scale with youth or adults attending, we feature bunkhouses, cabins, and tent platforms to lodge a total of 301 guests in covered and/or permanent structures. The Lodge and House face west so you will enjoy the gorgeous sunsets night after night. Camp Cedar Ridge has an outstanding fire-pit area, that can accommodate hundreds while singing around the campfire.
Nothing tops off a great retreat location like the enjoyment of great, home-cooked meals. Our Retreat menus are put together with healthy local food. We happily customize meals and are proud to offer vegan and gluten-free options at every meal. Our unique location provides peeks at local wildlife, quiet hikes along our nature trails, or a starlit swim in our outdoor heated pool.
A great resource for learning more about all that Camp has to offer when it comes to conferences and retreats is our Eventective page. You will find lots more photos and details HERE.

Camp Me/We
You asked, and we listened! Camp Cedar Ridge is stunningly beautiful in Summer & Winter! What is really special about winter is the additional space we have to offer personal retreats for individuals and couples. Every bed is filled in the summer months, but from December to May, we have private space available for short stays. Use this time for personal reflection or meditation. Or work on that book (you know the one). Wander our 35 acres of lush forest, sip coffee while you watch a herd of elk having their breakfast, read by the fireplace in the evening, and let our stream sing you a lullaby before you tuck into bed in your private cabin. We look forward to supporting your me or we time with delicious meals from the dining room. Camp Me/We: you deserve it.